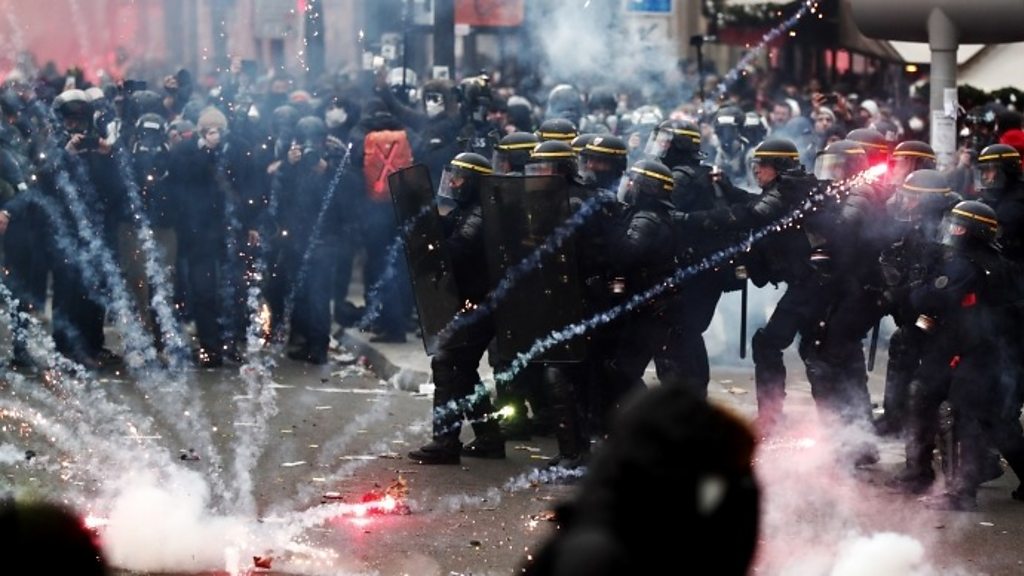 France crippled by biggest strike in years
France's largest nationwide strike in years has severely disrupted schools and transport.
Workers are angry about planned pension reforms that would see them retiring later or facing reduced payouts. Teachers and transport workers have been joined by police, lawyers, hospital and airport staff, and other professions for a general walkout.
The situation on the roads is getting worse with blockades across the country and seven of the country's eight oil depots now blocked by protesters, leading to fuel shortageshttps://t.co/cHTDZX1IMV

— The Local France (@TheLocalFrance) December 5, 2019
▶️ French police fired tear gas at protesters in the city of Nantes, Thursday, December 5, during a massive nationwide strike against French President Emmanuel Macron's pension reform plans.

👉 France Shuts Down: Mass Strike Hits Trains, Eiffel Towerhttps://t.co/tsKe4sN3tH pic.twitter.com/xtRs4GxoNm

— The Voice of America (@VOANews) December 5, 2019
🔴Incendies en cours rue du Chareau d'eau / Boulevard de Magenta à #Paris. Utilisation des gaz lacrymogènes par les forces de l'ordre. Les #pompiers arrivent petit à petit. Grosses tensions sur place entre les FDO et #BlackBlocs. #GreveGenerale #5decembre #greve5decembre #France pic.twitter.com/FZ6jJlI3dz

— Charles Baudry (@CharlesBaudry) December 5, 2019
Nationwide strike begins in France in what is expected to be a major showdown between unions and President Macron over his planned pension reforms pic.twitter.com/mWHULyzhOE

— TRT World Now (@TRTWorldNow) December 5, 2019
Here's a look at the French nationwide strike in pictures. #grevegenerale #greve5decembre https://t.co/b3HrMUvTQ6

— euronews (@euronews) December 5, 2019
France🇫🇷:

Thousands of trade union members marched through Paris to protest Macron's neoliberal pension reforms. This is the largest French nationwide strike in years and is affecting rail, road and air transportation.

Will MSM ignore this as they have ignored #GiletsJaunes? pic.twitter.com/eSDWjI0nEK

— Going Underground on RT (@Underground_RT) December 5, 2019
The Eiffel Tower is closed as part of a nationwide strike in France protesting the government's plan to overhaul the retirement system.

Schools, high speed trains, and other famous sightseeing spots are also closed for the day pic.twitter.com/vXxY28jktp

— QuickTake by Bloomberg (@QuickTake) December 5, 2019
Police fire tear gas at protesters as France is paralysed by worst nationwide strike for decades https://t.co/gmAGrHzZrO

— Daily Mail Online (@MailOnline) December 5, 2019